I'm again linking up with Jennifer at Ramblings of a Suburban Mom for her Thursday Thoughts link-up.
~ It's almost Halloween!  By the time we get to Saturday night, the girls will have been on Halloween overload.  Last night we went to the Halloween party at our High School and the kids had a blast (but who wouldn't with ice cream and donuts?)
~ I have no space on my phone so I've been using the camera for pictures.  But, I haven't gotten the pictures off the camera and onto the computer yet 🙂  So, all those posts I planned for this week have been postponed until next week.
~ It's starting to get cold and I need to start looking at winter coats for the girls.  They wear them for so long that I try to pick something we won't get tired of but will still look good in March (or April).
I'm loving this one at Target, but I'm not sure if the plaid will be too much.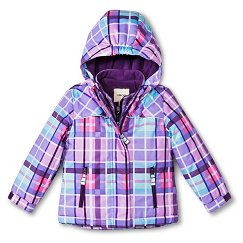 ~ I broke my plain black work heels last week.  Now I'm not sure if I buy booties for winter or replace my heels.  (decisions, decisions…)
~ The girls are starting to make their Christmas lists, but so far all Ella wants is crayons and paper.  Easy enough, but I'm sure she'll think of something else and I'd like to know what it is so I can budget for it.
What's on your mind this week?
~Elizabeth
This post contains referral links.